Most Affordable Fender Guitars 2020
17 Dec

The other day, I met this customer in a music store trying every guitar that he saw, that looked good to his eyes. I spent quite some time in the showroom, as, I became curious of what people look for when they visit a music store.

I came to understand that not many people are really sure of which guitar to pick up, especially when it comes to affordability. The problem with many music stores, especially online stores is that they employ salesmen, but, not essentially salesmen with a musical background which, in turn will result in suggesting a product which is far from the actual requirement of the customer.
A while ago, when I was in a showroom playing some cool African music on the Fender CD-60S, I was approached by a couple who expressed excitement in my way of strumming the Fender CD-60 S acoustic guitar. The guy wanted to know the value of the guitar just casually. In learning that the Fender CD-60S Acoustic that I was playing was very much affordable he quickly said to the sales person, "Make the Bill". So the one thing I came to discover is that whenever you see someone walk into a music store, it means, he loves music, whether he knows how to play or not.
I realized that most people who walk in music showrooms want an affordable guitar because chances are that they just want to try and see if they can learn how to play or they just want to be playing in the park or beach.
Casual guitar players will not look for expensive guitar but either Economical or affordable ones.
In this article you'll find my recommendations on the best affordable Fender guitars, based on my own personal opinion and experience. I'm not going to tell you they are the same as an American Fender, but if you are looking for another option you might want to consider one of these guitars.
There's a huge range of affordable Fender guitars out there that look great, sound great when played on. "Affordable" does not always mean poor quality and plenty of guitars out there will give you a fantastic playing experience for many years without breaking the bank.
Here are our top recommendations of the best affordable Fender Guitars:

The
Fender CD-60SCE
is well suited for beginner to intermediate players who want a versatile, high-quality acoustic-electric guitar that won't break the bank. The dreadnaught cutaway style body allows for easier access to the lower frets and scalloped "X"-bracing provides extra resonance and projection when you play.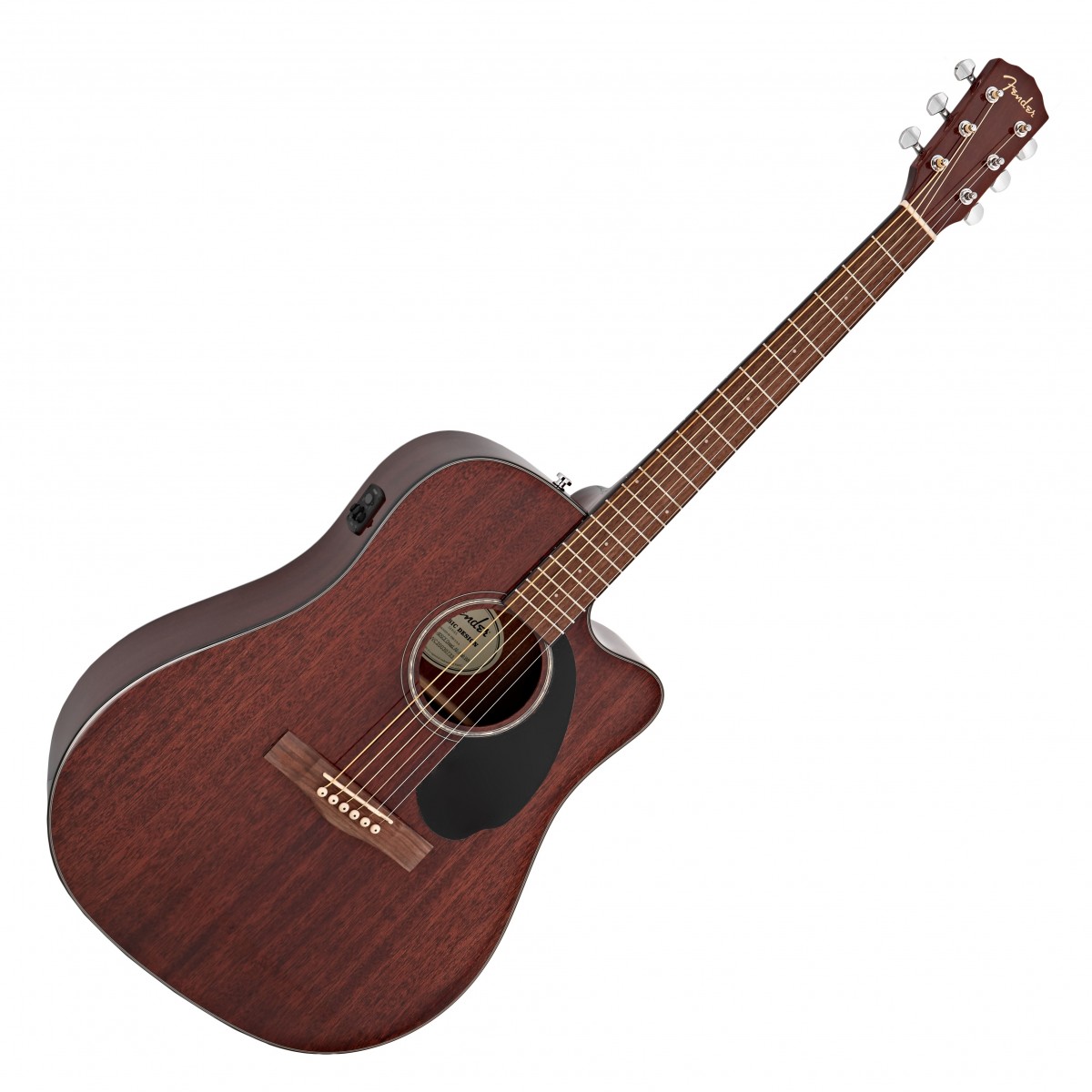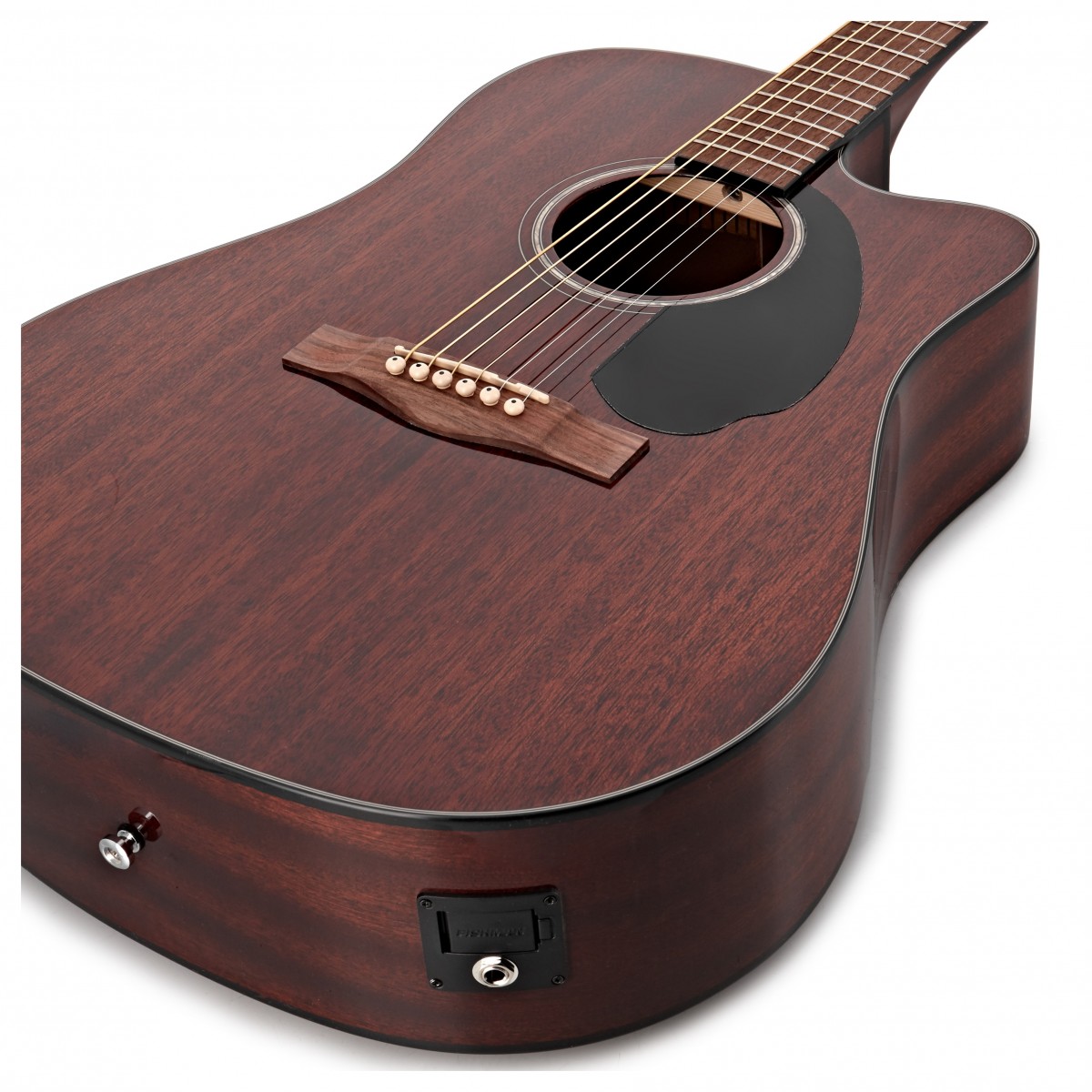 This guitar looks just as good as it sounds, featuring a stunning all Mahogany finish, black and white neck and body binding, chrome tuning knobs, and a "mother of pearl" style acrylic design around the sound hole. It also features Fishman Isys III System electronics with active on-board preamp.
One thing I like about this guitar is the features. A Venetian cutaway and rolled fingerboard edge makes it easy to play. This guitar will serve you for a longer period of time because of the finest material it is made of. The outward appearance looks great at the first site, It lives up to its dreadnought name and can fill a large living room with its sound. The tone is deep, rich and mellow. Strings are separated enough for easy picking. Tuning pegs are of decent quality and once strings are broken in, it stays pretty much in tune. The guitar's far better than one would expect for the price.






The Squier SA-150N is a full-size nylon-string acoustic that delivers classical Spanish guitar tones without breaking the bank. It's strong enough to stand up to the everyday use (and abuse) that beginning players might throw its way thanks to its all-laminate construction with linden wood top and mahogany back and sides. This guitar also features scalloped "X"-bracing, mahogany neck, and a durable dark-stained maple fingerboard for an instrument that looks as good as it sounds. With its wider neck and soft-playing nylon strings, the SA-150N is a prime choice for finger picking newcomers.
In terms of tonal quality and warmth, the SA-150N still offers a very acceptable sound – it's clear and mellow, with good projection. It delivers exactly what a beginner needs in terms of tone and volume.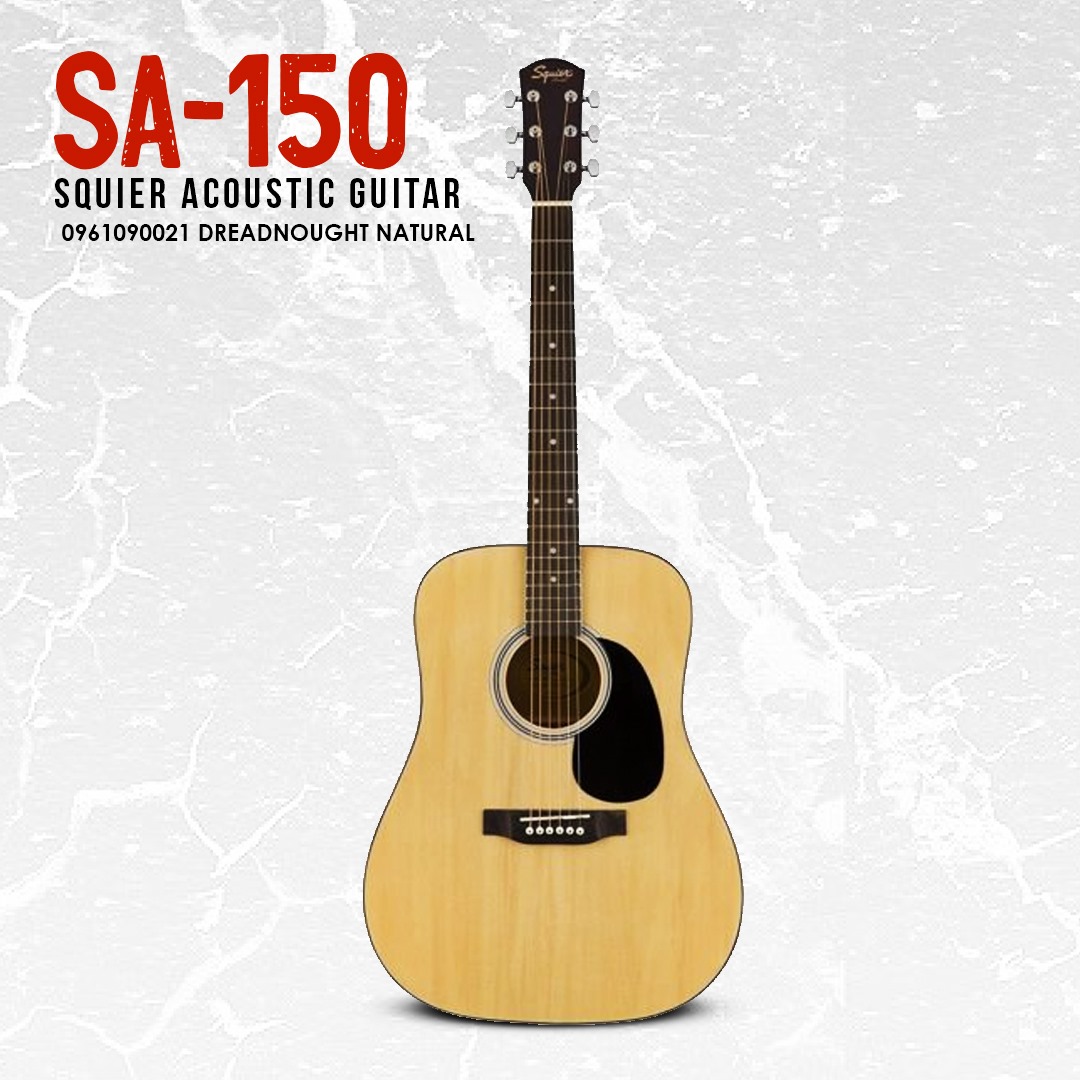 The Squier SA-150 Full Size Acoustic is a stripped down, straightforward acoustic guitar for beginners and experienced players alike. The neck is made of Nato wood with a stained hardwood fret board and 20 frets with dot inlays.
The neck also features a plastic nut, a dual action truss rod, and covered chrome tuning machines. The SA-150 comes with Fender Dura-Tone acoustic guitar strings as well, but you can an extra pack for when one breaks or they begin to lose tension. The laminated Mahogany body features scalloped x bracing to support the dreadnought body and stained Hardwood top. The Mahogany body gives the guitar a bit of a darker sound, giving it excellent bass response.
The dreadnought sound does provide a warm; full sound though, that makes it ideal for singer, songwriters and beginners. The bridge is stained Maple, and wrapping up the features of the SA-150 is the stylish black pick guard.


A superb gateway into the time-honored Fender family, the Squier Affinity Series Telecaster delivers legendary design and quintessential tone for today's aspiring guitar hero. This Tele features several player-friendly refinements, such as a slim and comfortable "C"-shaped neck profile, a 6-saddle bridge for fine intonation adjustment and sealed die-cast tuning machines for smooth, accurate tuning. Loaded with dual Squier single-coil Tele pickups with 3-way switching for genre-defying sonic variety, this model is ready to accompany any player at any stage. Radius: 9.5".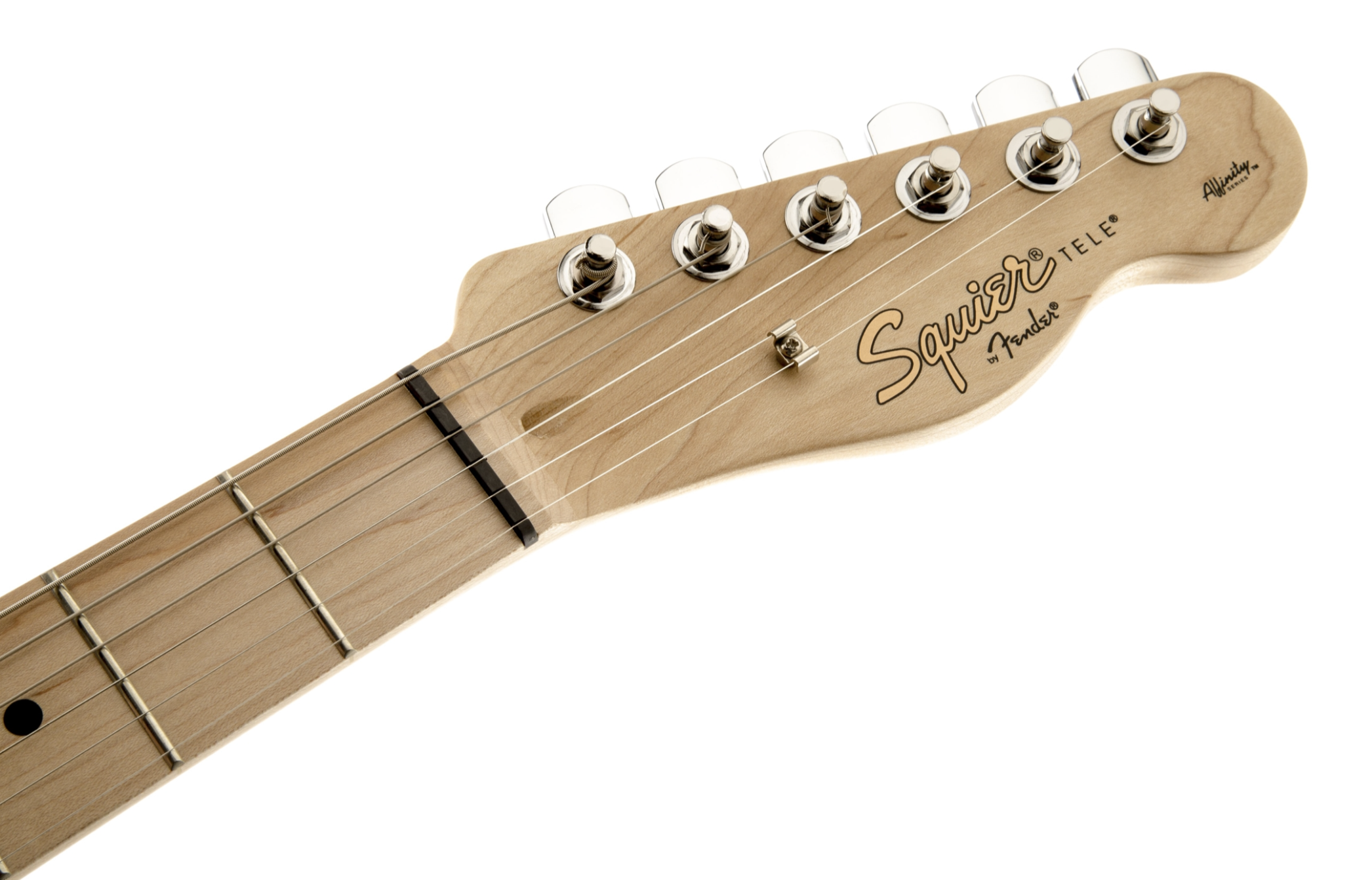 This might be the perfect choice for an aspiring musician. There are 2 single-coil telecaster pickups in charge of original Fender tone. The guitar has solid-body and a Telecaster bridge which provides solid tuning stability. It can be used for any style of playing, in several different genres due to "C" shaped neck.
The main difference between this model and the other guitar models is that this one has dot inlays all over the fret board, starting from the 3rd fret all the way to 21st.
The guitar belongs to an affordable price point category and pays great value for the price.

The newly-redesigned Bullet Strat is ideal for first-timer players looking for an easy-to-play, affordable electric guitar. The slim "C"-shaped neck profile offers a comfortable playing experience that is perfect for players with smaller hands. Equipped with three single-coil Stratocaster pickups and five-way switching, the Bullet Strat has the classic Fender sound heard on countless hit records. Its sleek neck provides fast and smooth playability while the improved tuning machines and hard tail bridge ensure rock-solid tuning stability.
The comfortable "C"-shaped neck profile of this instrument (the shape of the neck in cross section) is sculpted to impart a vintage-style playing feel. The most prevalent neck profile shape, it's remarkably comfortable and is ideal for all playing styles.
Dynamically responsive, clear-sounding single-coil pickups provide crisp, rich tone.
This model features a hard tail bridge engineered for enhanced tuning stability and sustain. This design element also hearkens back to the early- to mid-'70s.
A perfect choice for beginners, the Squier Strat Pack has everything you need to begin playing right out of the box. The Stratocaster is ideal for beginning players and provides a comfortable playing feel. It includes a lightweight body, a vintage-style tremolo bridge for classic pitch effects and three single-coil pickups for classic Strat tone.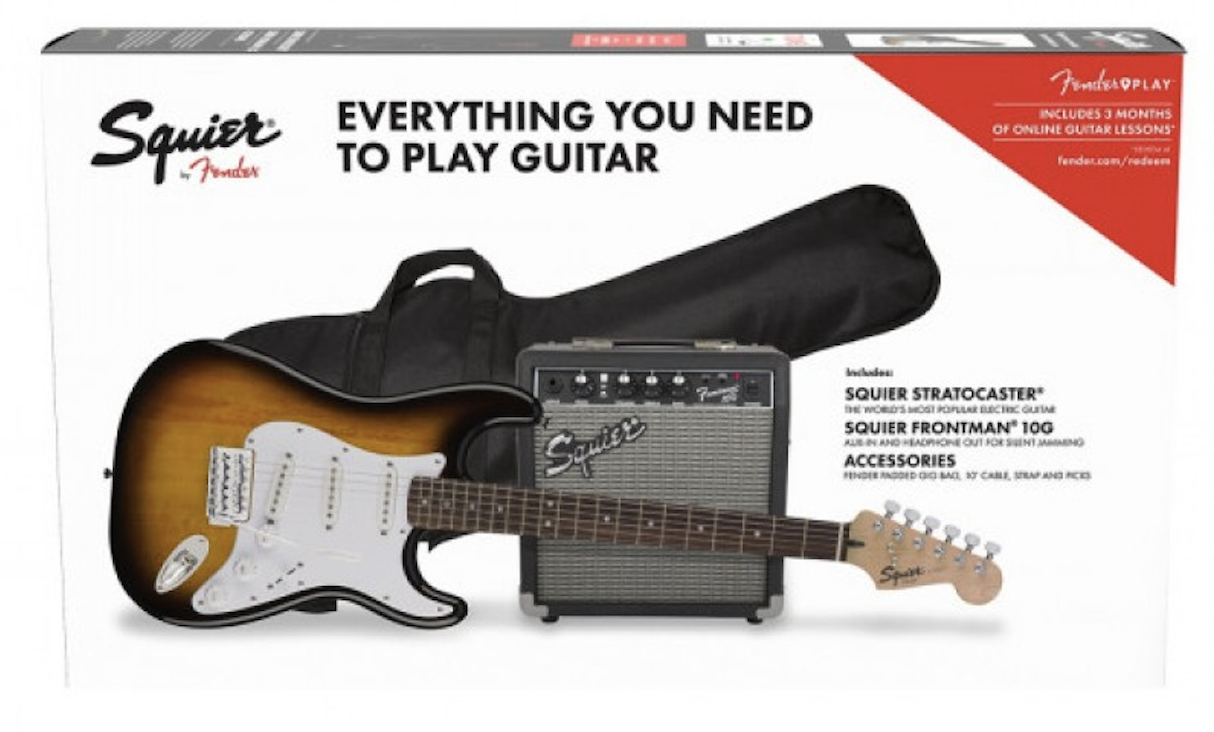 The included Squier Frontman 10G amplifier is the perfect companion for jamming thanks to its aux input that allows you play along with your favorite songs or backing tracks, as well as a headphone jack for silent practice. The Squier Starter Strat Pack also comes with a padded gig bag, strap, cable and picks—everything you need to stop dreaming and start playing.
Evoking the Stratocaster guitars of the 1950s and '60s, this model features a vintage-style Fender tremolo for authentic design and performance.
This guitar sports a modern neck designed for comfort and performance with a contemporary "C"-shaped profile.
This bundle has everything you need to start rocking straight out of the box, including a free 3-month subscription to Fender Play, a padded gig bag, pack of picks, a comfortable and durable guitar strap and a 10-foot instrument cable.
The desire to play music instruments by many people is unquenchable thirst that can only be satisfied by trying out the many affordable Fender guitars outside there. If you are just a beginner or just not sure what you want, the best advice is to opt for affordable guitars especially the ones I have mentioned in this article. After sometime you will start understanding the different tones that most guitars produce. M4music has a huge collection of affordable guitars that you can choose from.
At m4music.com we offer a great selection of guitar for all kinds of players. Whether you're a beginner or a pro, we have it! Our trained technicians can help you find the best guitar for your playing style.